Larry Pinkney secures grant from Headwaters Fund for the forerunner to MAPA
Minnesota Citizen Participation Coalition member, Larry Pinkney, wrote the grant that provided the seed money for the formation of the Minnesota Alliance for Progressive Action (formerly Minnesota Citizen Participation Coalition).
Content of a letter pertaining to the award of a $5000 grant from the Headwaters Fund's Interim Director, Kathy Donahue to Larry Pinkney of Minnesota Citizen Participation Coalition (image below):
Headwaters Fund
27 May 1988
Larry Pinkney
Minnesota Citizen Participation Coalition
1929 S Fifth Street
Minneapolis, MN 55454
Dear Larry:
On behalf of the Grants Committee, I am happy to inform you that the Board of Directors approved the Grants Committee recommendation to award a grant of $5,000 to the Minnesota Citizen Participation Coalition.
Your proposal was one of the few selected from the many submitted in the cycle, and the Committee is confident that Headwaters is making a strong investment in social change by offering this support to your project. In particular, the Committee supports your efforts to develop a broad based progressive coalition to further social change issues in the local political process.
A certain amount of paperwork is necessary before we can disburse your grant check. Please sign the enclosed grant agreement and return it to us along with a copy of your articles of incorporation, a resolution of your fiscal agent's policy body indicating agreement to serve as your agent, and a copy of your fiscal agent's 501(c) (3) determination letter (the one we have on file has an advance ruling date of 31 December 1987 and the 90 day grace period is over).
If you have any questions about the disbursement process or any other concerns about your grant, please contact Mary Lynch at [number omitted].
We are proud to be able to be involved in your efforts – congratulations!
Sincerely,
Kathy Donahue
Interim Director
3255 Hennepin Avenue S.• #210 • Minneapolis • MN • 55408 • [number omitted]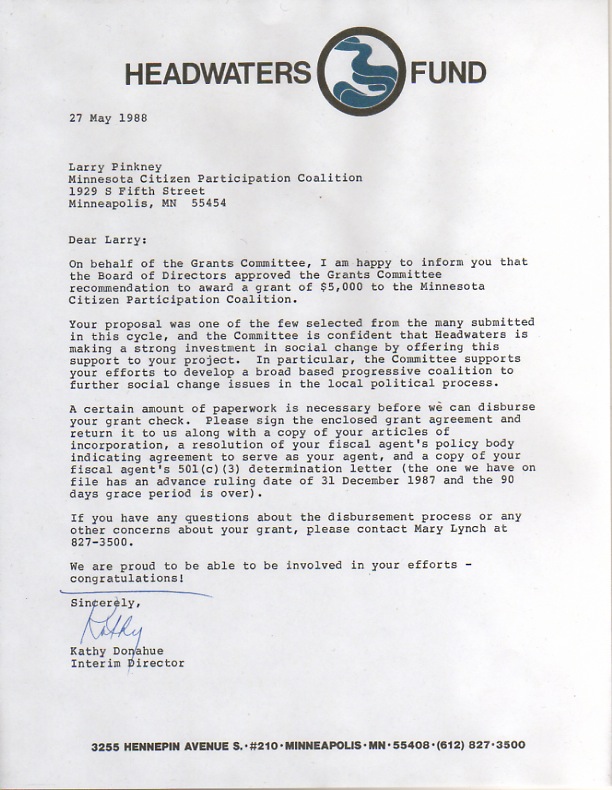 •••
Larry Pinkney is a veteran of the Black Panther Party, the former Minister of Interior of the Republic of New Africa, a former political prisoner and the only American to have successfully self-authored his civil/political rights case to the United Nations under the International Covenant on Civil and Political Rights. In connection with his political organizing activities, Pinkney was interviewed in 1988 on the nationally televised PBS News Hour, formerly known as The MacNeil/Lehrer News Hour, and more recently on the nationally syndicated Alex Jones Show. Pinkney is a former university instructor of political science and international relations, and his writings have been published in various places, including The Boston Globe, San Francisco BayView newspaper, Black Commentator, Intrepid Report, Global Research (Canada), LINKE ZEITUNG (Germany), 107 Cowgate (Ireland and Scotland), and Mayihlome News (Azania/South Africa). He is in the archives of Dr. Huey P. Newton (Stanford University, CA), cofounder of the Black Panther Party. For more about Larry Pinkney see the book, Saying No to Power: Autobiography of a 20th Century Activist and Thinker, by William Mandel [Introduction by Howard Zinn]. (Click here to read excerpts from the book.)