Larry Pinkney was a resource person/panelist representing the Political Prisoners' Rights Group at the Breaking the Barriers conference in Minneapolis, Minnesota on April 23, 1988. An accompanying document shows that other panelists were, John Anderson, Stephanie Autumn, Judy Duffy, Edith Kerre, Barbara Knudson, and Tom Vraalsen.
Contents of poster/flyer (image below):
+++++Breaking the Barriers+++++
How Can We Make the United Nations More Effective?
+++++++++++++++++++++++++++++
A conference to establish priorities for a more effective U.N. sponsored by the Minnesota Peace and Justice Coalition.
There will be speakers, resource people, workshops to help you formulate recommendations to Congress, the Presidential Transition Team, and the United Nations.
Your participation will give us more clout!
When? Saturday, April 23, 2988 – 8:30 am to 3:30 pm
Where? Plymouth Congregational Church 1900 Nicollet Avenue, Minneapolis
Keynote Speaker:
John Anderson, Adviser, Campaign for U.N. Reform, candidate for President, 1980
Resource People:
Harold Stassen, last surviving signator of the United Nations Charter
Tom Vraalsen, Norway's Ambassador to U.N.
Barbara Knudson, professor and organizer of the Nairobi Conference of
Status of Women
Larry Pinkney, Political Prisoners' Rights Group
Representative of International Indian Treaty Council
——————————————————————-
To register send check to
Minnesota Peace and Justice Coalition
[Address omitted]
Minneapolis, MN 55454
[Phone numbers omitted]
| | | | |
| --- | --- | --- | --- |
| In advance | $10_____ | Optional Lunch | $6_____ |
| At the Door | $12_____ | Child Care Needed | _______ |
| Scholarship Donation | ________ | Scholarship Needed | _______ |
Name__________________________________Phone___________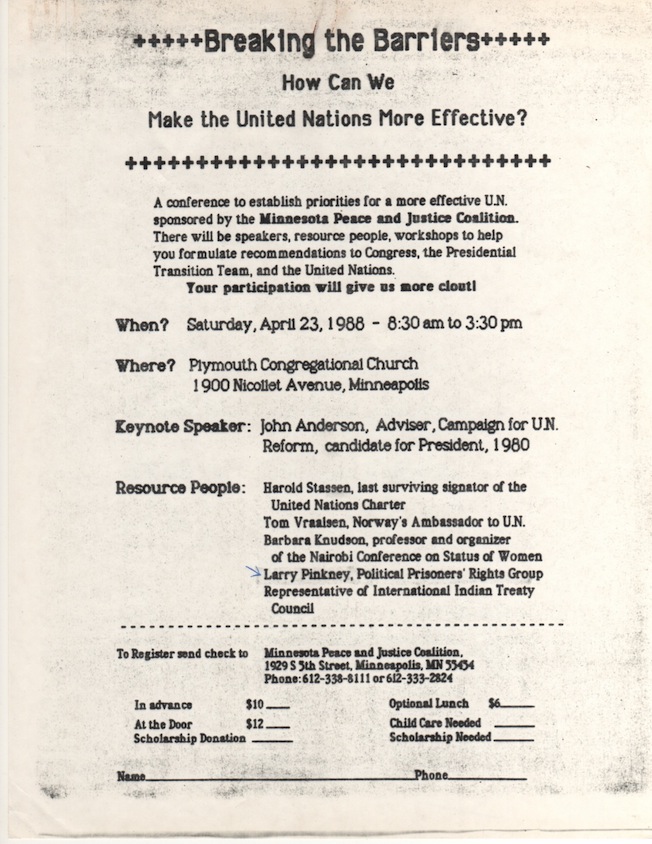 •••