University College Commencement Ceremony letter to Larry Pinkney
Larry Pinkney received a letter from the Acting Program Director of the Program for Individualized Learning at University College (University of Minnesota) regarding the June 3rd, 1989, University College Commencement Ceremony on May 9, 1989.
Contents of letter (image below):
UNIVERSITY OF MINNESOTA
TWIN CITIES
Program for Individualized Learning
University College
201 Wesbrook Hall
77 Pleasant Street S.E.
Minneapolis, Minnesota 55455
[phone number omitted]
May 9, 1989
Larry Pinkney
[address omitted]
Dear Larry:
Earning your degree through the Program for Individualized Learning is a special accomplishment. University College, your college, takes great pride in each of its graduates and has set June 3rd at 1:30 p.m. as the occasion to honor you and other graduates of the Program for Individualized Learning and Inter-College Program.
I hope you will be able to participate in the University College Commencement Ceremony. It is a special event to be shared with your peers, family, and friends. I look forward to introducing you to the audience and congratulating you on your significant achievements. Please plan to join us in this special celebration. If you have not yet done so, please call Carroll Franco at [number omitted] to confirm. I hope to see you there.
Sincerely,
Kent Warren
Acting Program Director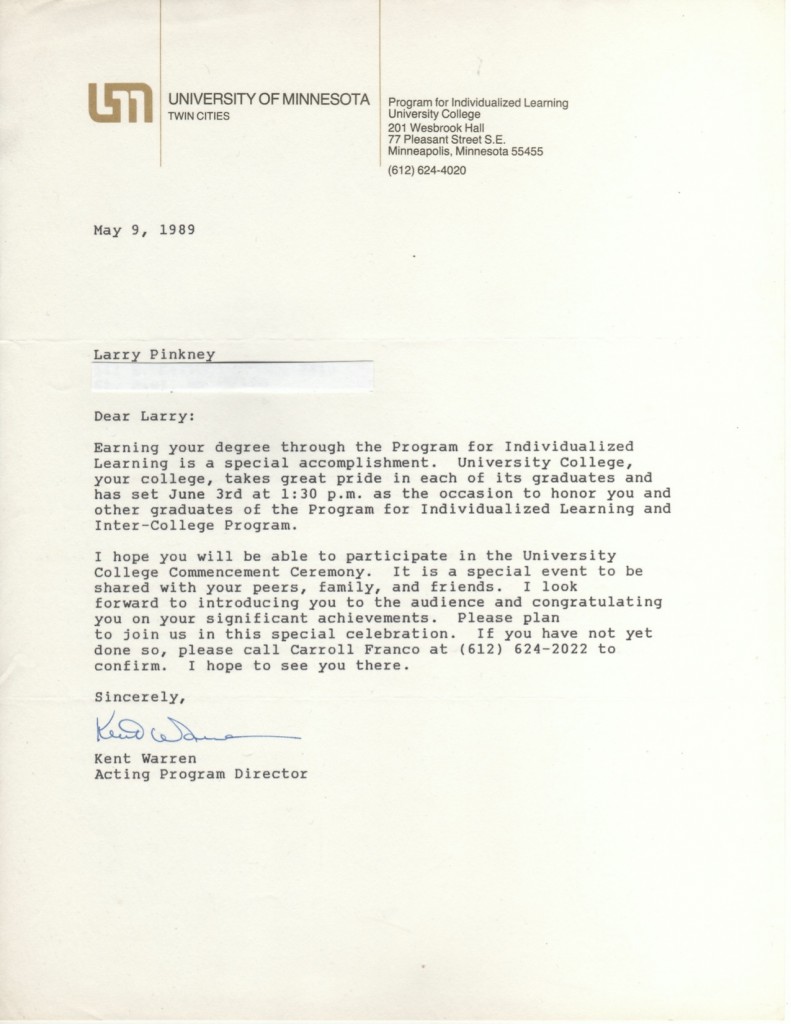 •••