1972 Republic of New Africa (RNA) letter to Larry Pinkney
Among other political activities, Larry Pinkney served as western regional Minister of Interior for the Republic of New Africa (RNA). The RNA is described in the 2004 book 'Front Line USA: Threats, Attacks, Arrests and Harassment of Human Rights Defenders' by John Rendler as "an organization formed to coordinate the efforts of individual activists, Black nationalists, and grassroots groups of diverse philosophies."
Contents of letter to Larry Pinkney (Atana) from Chema Halisi (image below):
Republic of New Africa
Minister of Interior
Box 4333
Berkeley, Calif. 94704
Telephone: [number omitted]
An African Nation In the Western Hemisphere
Struggling for Complete Independence
THE STRUGGLE IS FOR LAND!
Imari Abubakari Obadele I
President
Agaja Olu Enaharo
National Minister of Interior
Chema Halisi
National Deputy
Minister of Interior
Power & Peace Brother Atana:
My trip was very successful. We now have Regional Interior Minister for all four areas.
Brother Ahmed Obapemi I. is our Southern Regional Interior Minister.
His address is: [address omitted]
New Orleans, La
phone [number omitted]
His mailing address is:
[address omitted]
New Orleans, La. 70150
Brother Jeral Williams is the Regional Interior Minister of the East.
His address is: [address omitted]
Jamaica, New York 11434
I am hoping that you write these Brothers and introduce yourself to each of these Brothers.
It is important as Regional Minister that WE correspond with each other and exchange ideals. Next week I will be sending out information as to some of the things you should be trying to get together.
Also I would like for you to try to recruit four other Brothers to help deal with the problems on the West Coast–contact Brother Agaja he will tell you more.
YOURS IN THE STRUGGLE
Chema Halisi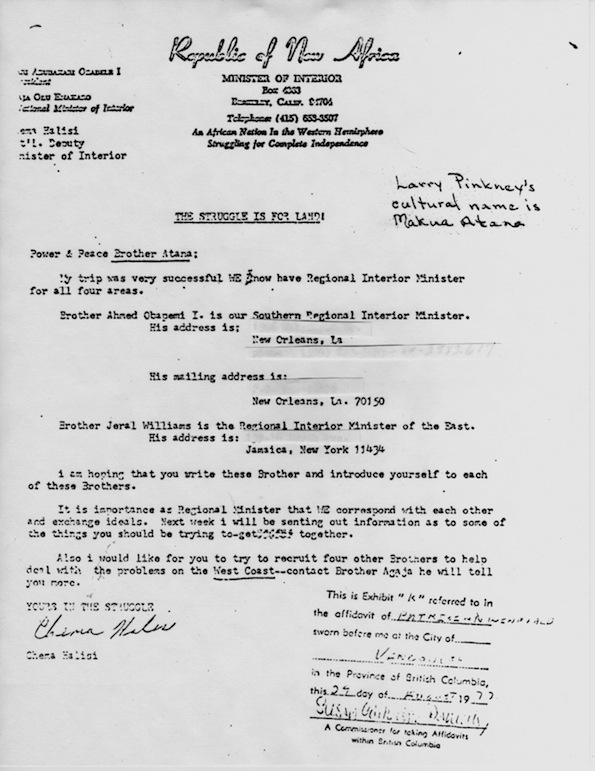 •••