1972 Republic of New Africa (RNA) letter to all regional Minister of Interior
Among other political activities, Larry Pinkney served as western regional Minister of Interior for the Republic of New Africa (RNA). The RNA is described in the 2004 book 'Front Line USA: Threats, Attacks, Arrests and Harassment of Human Rights Defenders' by John Rendler as "an organization formed to coordinate the efforts of individual activists, Black nationalists, and grassroots groups of diverse philosophies."
Contents of letter from Chema Halisi "to all regional Minister of Interior" (image below):
Republic of New Africa
Minister of Interior
Box 4333
Berkeley, Calif. 94704
Telephone: [number omitted]
An African Nation In the Western Hemisphere
Struggling for Complete Independence
Imari Abubakari Obadele I
President
Agaja Olu Enaharo
National Minister of Interior
Chema Halisi
National Deputy
Minister of Interior
March 7, 1972
TO ALL REGIONAL
MINISTER OF INTERIOR
POWER & PEACE, MY BROTHERS:
Enclosed it a list and letters of National Directives that I have received from National Minister. Get copies re-produced and send them to Local Interior Minister in your Region. Make sure that each Directives are carried out in your region.
On some of these Directives the due date has passed, but Consulates should still work on getting money for the RNA-11. Each Consulate must begin at once to have fund raising activities in their area, to raise money for the RNA-11. We understand that any day, any moment anyone of us might be in the same position, and WE would expect the family to do all that is possible to assure our release.
You should send to Brother Agaja Olu Enaharo a list as to how many local Interior Minister are in your Region, and how many functioning citizens are working in their Ministry Section. You should also begin at once to identify cities in your Region that Interior should be moving into. Get maps of your Region and mark the cities were there are Consulate, Study Groups and cities you are planning to move into. WE must have this information as soon as possible.
Any suggestion that you consider not confidential as to things the Cadre should be working on please write Brother Agaja and let us know.
WE MUST TIGHTEN UP THE SHIP,
FOR THE STORM IS UPON US.
Chema Halisi
cc: Agaja Olu Encharo
National Minister of
Interior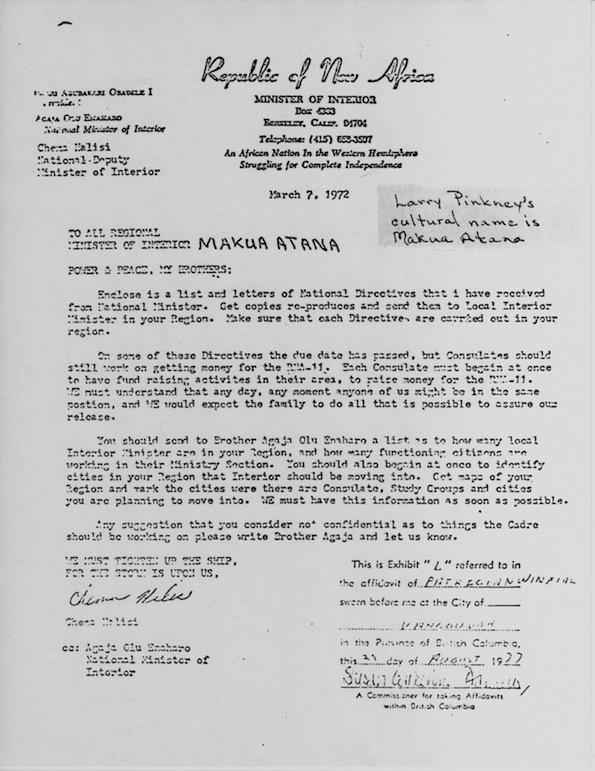 •••