UMass letter to Jobs With Peace National Field Director/Organizer Larry Pinkney
Larry Pinkney received a letter from Jemadari Kamara of the Office of the Dean, College of Public and Community Service, University of Massachusetts, in regard to his work as Jobs With Peace National Field Director/Organizer, on August 18, 1989 (image below):
UNIVERSITY OF MASSACHUSETTS
AMHERST • BOSTON • WORCESTER
OFFICE OF THE DEAN
COLLEGE OF PUBLIC AND
COMMUNITY SERVICE
DOWNTOWN CENTER
BOSTON, MASSACHUSETTS 02125-3393
August 18, 1989
Mr. Larry Pinkney
National Office
Jobs With Peace Campaign
[Address omitted]
Boston, MA 02110
Dear Larry:
It was a pleasure meeting you at my office Friday, August 11, 1989. Your enthusiasm for the principles and goals of the Jobs With Peace Campaign is contagious. I am sure you are bringing outstanding leadership to the campaign's organizing efforts across the country. Having received a package of information from Jill Nelson, I will now be able to review this information from a more enlightened position.
I was particularly pleased to see that the Campaign had persons of color, such as yourself, in high-ranking national positions. It is extremely important in attempting to organize those who are most dispossessed and impacted by the injustices of our economic system, that they be reflected among the central leadership of these movements. Your participation as national organizer for the Campaign is making a significant contribution in this direction.
I was pleased to hear about your organizing efforts and look forward to continued communication in the future. Please feel free to contact me upon your next visit to Boston.
Sincerely,
Jemadari Kamara
cc: Jill Nelson
JK/pc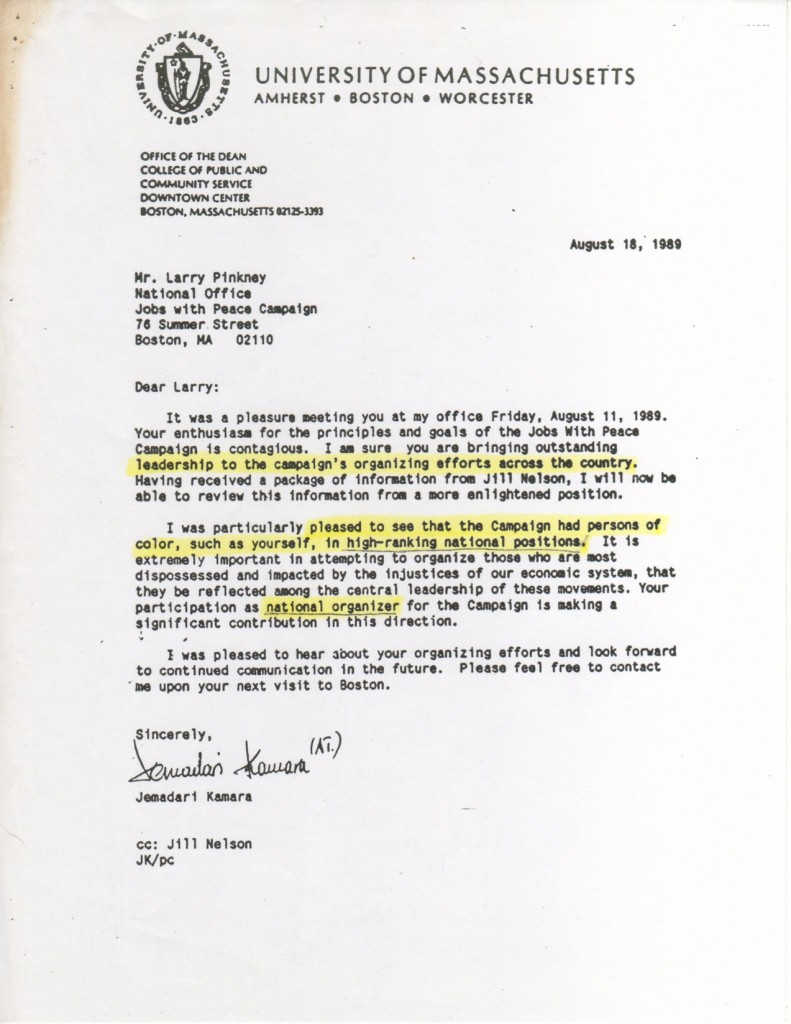 •••
Larry Pinkney is a veteran of the Black Panther Party, the former Minister of Interior of the Republic of New Africa, a former political prisoner and the only American to have successfully self-authored his civil/political rights case to the United Nations under the International Covenant on Civil and Political Rights. In connection with his political organizing activities, Pinkney was interviewed in 1988 on the nationally televised PBS News Hour, formerly known as The MacNeil/Lehrer News Hour, and more recently on the nationally syndicated Alex Jones Show. Pinkney is a former university instructor of political science and international relations, and his writings have been published in various places, including The Boston Globe, San Francisco BayView newspaper, Black Commentator, Intrepid Report, Global Research (Canada), LINKE ZEITUNG (Germany), 107 Cowgate (Ireland and Scotland), and Mayihlome News (Azania/South Africa). He is in the archives of Dr. Huey P. Newton (Stanford University, CA), cofounder of the Black Panther Party. For more about Larry Pinkney see the book, Saying No to Power: Autobiography of a 20th Century Activist and Thinker, by William Mandel [Introduction by Howard Zinn]. (Click here to read excerpts from the book.)