Larry Pinkney speaks at the 1987 "Vietnamese Experience in Minnesota" seminar
Larry Pinkney was one of the speakers at the "Change and Challenge" seminar entitled "The Vietnamese Experience in Minnesota" which took place at Lutheran Social Services on August 14, 1987 in Minneapolis, Minnesota. His presentation was titled "The Need For Cultural Sensitivity."
Contents of the program schedule (image below):
The Vietnamese Community of Minnesota
P.O. Box [number omitted], Minneapolis, MN 55414
THE NATIONAL ALLIANCE OF VIETNAMESE AMERICANS
THE VIETNAMESE COMMUNITY OF MINNESOTA
with the cooperation of
The refugee Program Office, Department of Human Services, and the Community Leadership and Development Series of Ramsey Action Programs cordially invite you to the SEMINAR on Change and Challenge:
THE VIETNAMESE EXPERIENCE IN MINNESOTA
On Friday, August 14, 1987
LUTHERAN SOCIAL SERVICES
[number omitted] Park Avenue, Minneapolis MN 55404
612-[number omitted]
The purpose of the program in to inform you about the cultural and experiential aspects of the VIETNAMESE MINNESOTANS, is the first of its kind to be held in Minnesota; and among other things, will delve into both the VIETNAMESE CULTURE, past experience and the present accomplishments as newcomers and citizens in and of AMERICA.
All participants to the program will receive a Certificate of Completion validating their attendance and participation in this program.
PROGRAM
| | |
| --- | --- |
| 9:30 | Registration, coffee. Free Admission. |
| 10:00 | Hai D. Doan, Vice President, National Alliance for Vietnamese Americans: Introduction. |
| 10:10 | Jane Kretzmann, Director, MN Refugee Program Office: The Vietnamese Immigrants in Minnesota. |
| 10:35 | Thomas Tran, President, Vietnamese Community and of NAVA.: The Growth of the Vietnamese Civilization. |
| 11:30 | Lunch. Complimentary Vietnamese Food. |
| 12:30 | Larry Pinkney, Instructor, Metropolitan State University: The Need For Cultural Sensitivity. |
| 1:00 | Stephen B. Young, Dean, School of Law, Hamline University: An Overview of the Vietnamese Culture. |
| 1:45 | Dexter J. Sidney, Director of Office Technology, Norwest Corporation: A Point of View on Vietnam. |
| 2:30 | Linda N. Nguyen, President, Vietnamese Women Association: The Vietnamese Family Traditional Life. |
| 3:00 | Panel Discussion. |
| 4:00 | Conclusion. |
We gratefully acknowledge the support of: Lutheran Social Services, Catholic Charities, Amherst H. Wilder Foundation.
For further information, please contact:
Thomas Tran [number omitted]
Hai Doan [number omitted]
Ann Opsahl [number omitted]
Larry Pinkney [number omitted]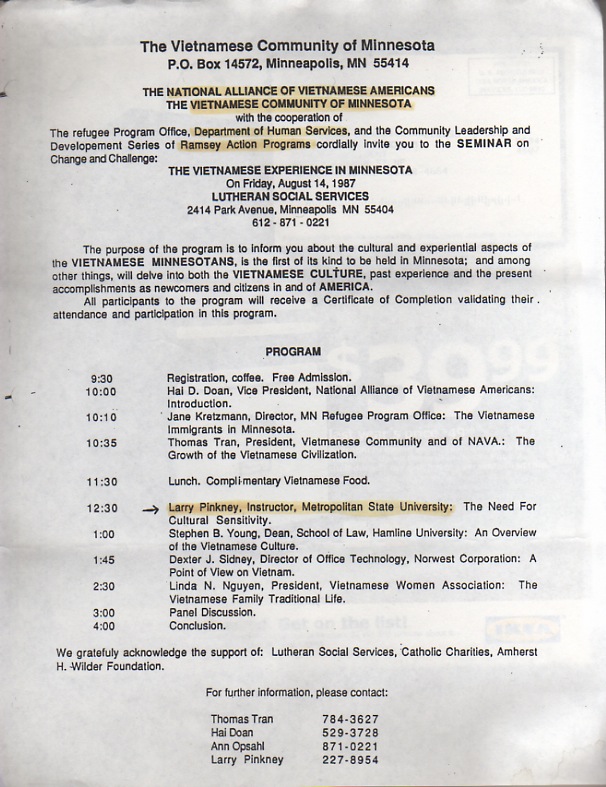 •••
Larry Pinkney is a veteran of the Black Panther Party, the former Minister of Interior of the Republic of New Africa, a former political prisoner and the only American to have successfully self-authored his civil/political rights case to the United Nations under the International Covenant on Civil and Political Rights. In connection with his political organizing activities, Pinkney was interviewed in 1988 on the nationally televised PBS News Hour, formerly known as The MacNeil/Lehrer News Hour, and more recently on the nationally syndicated Alex Jones Show. Pinkney is a former university instructor of political science and international relations, and his writings have been published in various places, including The Boston Globe, San Francisco BayView newspaper, Black Commentator, Intrepid Report, Global Research (Canada), LINKE ZEITUNG (Germany), 107 Cowgate (Ireland and Scotland), and Mayihlome News (Azania/South Africa). He is in the archives of Dr. Huey P. Newton (Stanford University, CA), cofounder of the Black Panther Party. For more about Larry Pinkney see the book, Saying No to Power: Autobiography of a 20th Century Activist and Thinker, by William Mandel [Introduction by Howard Zinn]. (Click here to read excerpts from the book.)