1991 Letter to Larry Pinkney from NAACP Minneapolis Branch President
Larry Pinkney served as a Program Staff member with the Minneapolis branch of the NAACP and in July of 1991 resigned to pursue other endeavors. He received a letter from NAACP Minneapolis Branch President, Matthew Little, on July 24, 1991.
Contents of letter (image below):
National Association for the Advancement of Colored People
Minneapolis Branch
[address omitted]
Minneapolis, Minnesota 55408
[phone # omitted]
July 24, 1991
Larry Pinkney
& Von Sheppard
Minneapolis, MN
Dear Larry and Von:
It is with regret that we find it necessary to accept your resignation from our NAACP Back-to-School / Stay-in-School program.
The program is one that is very dear to the NAACP, and we had looked forward to your special contributions in helping to see that it become successful.
However, we accept your justification for being compelled to resign. We thank you for your contributions to the program thus far; and wish you the very best in the future.
Best Regards,
Sincerely,
Matthew Little,
President
Dorothy Woolfork,
Chairperson Back-to-School / Stay-in-School Program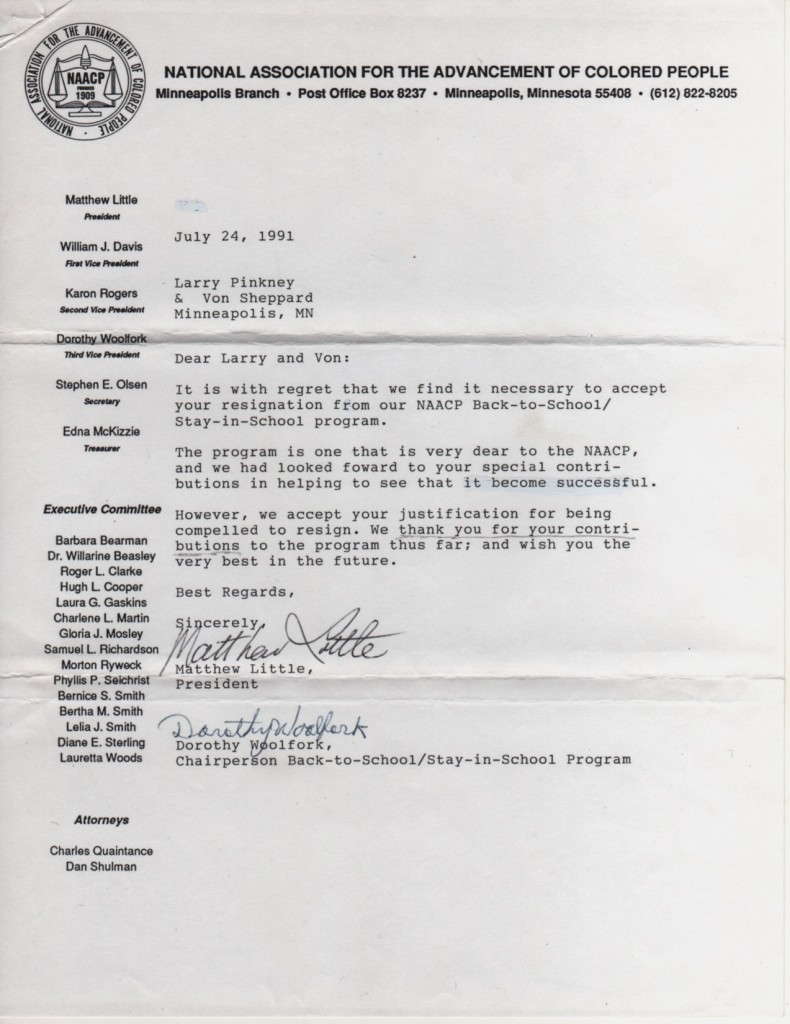 •••